The best investment you can make is an investment in yourself . . . The more you learn, the more you earn
15-Hour Communication & Leadership Program Especially for Women
Without working on ourselves and improving ourselves every day, it would be unrealistic for us to expect a much different future from the one we have right now, it would also be unrealistic for us to perform better in the future, because we will be no different tomorrow from the person we are today.
Whether you are a powerful CEO wanting to expand your company and build your legacy or an employee at the lowest point in the corporate ladder wishing to climb it faster, self-investment will lead you to become more valuable and visible to others around you; it is what will make you achieve those objectives.
Invest in Yourself is a private communication program for women who want to maximize their professional image and impact. Whatever your communication needs, Kennedy Communication Studio will design a program especially for you.
Each program is custom designed to meet the precise needs of the client. Generally, a program can look like this:
Also offered through the Studio are: "Writing to be Read" and "Effective Listening". Voice coaching, speech coaching, writing coaching: whatever your communication needs, Kennedy Community Studio is prepared and ready to create exactly the program that will work for you.
Please contact our Principal, Paddy Kennedy at Kennedy Communication Studio to discuss a strategic communication and leadership program designed specifically for you.
Whatever, you the client, needs to improve your Communication and/or Leadership style and skills, we will write a program precisely to meet your needs.
General topics covered are:
In this program, you get back exactly what you put into the work. This is a program based on client discipline. Once we fully understand your goals, needs, and desires, we will create the program to meet those wishes.
This is the Studio's most attended program; the success rate has been phenomenal. But you will only get back the exact equivalent of your investment in yourself.
Our promise to you: we will meet you on that extra mile where success is always found.
The only thing you need to take this program is a strong desire to improve yourself – whether that be in Communication, Leadership, Presenting, Speaking, Writing, Dealing with Crises, Pursuing your Dreams. This program demands discipline!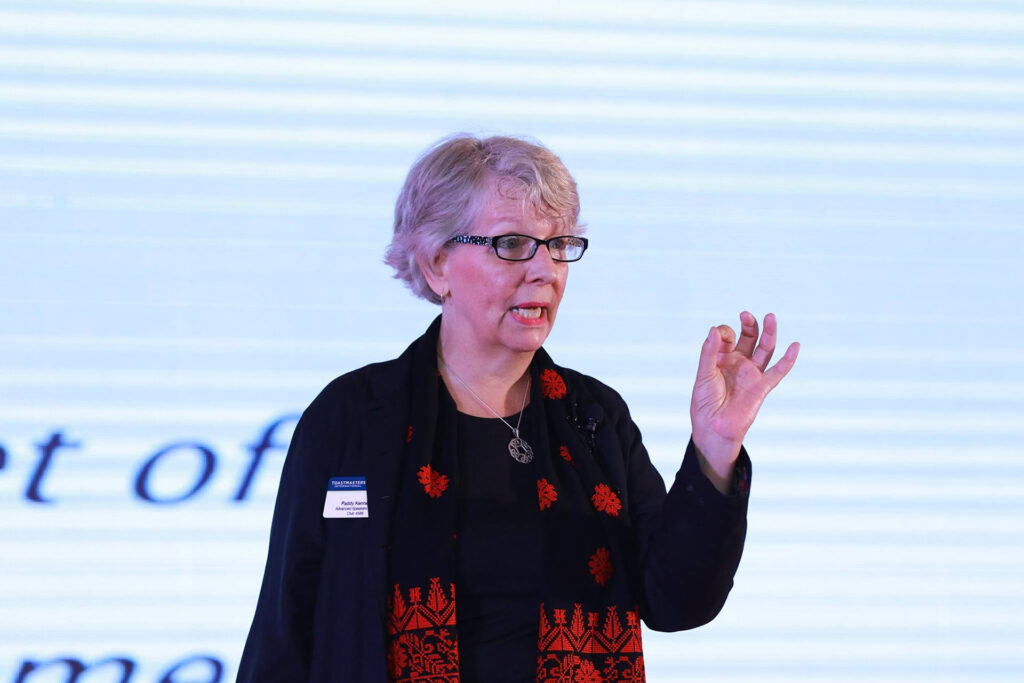 Paddy Kennedy has been coaching for over 40 years; she has worked and coached thousands of people from around the world in a variety of subjects. She is a Certified Life Coach, a Certified Mindfulness Coach, and a Communication, Leadership and Voice Coach and Trainer for more than 20 years. Her clientele spans the globe, coming from over 90 countries.